Paddy Sheridan Is A Bit of A Legend In Our Offices!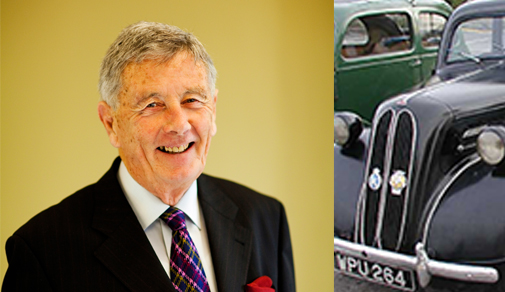 As a member of the team in Sheridan Insurances, we're always asked is 'Paddy Sheridan' still working there? And we proudly say 'yes, he's in the office everyday'. The next question that follows is 'how old is he?' and the answer is 87 years old. Paddy plays a major role in our lives. As a team member, he supports us every step of the way, giving us encouragement and advice. His stories and experiences are amazing so I thought I'd tell you a few things that you may not know about Paddy Sheridan.
Pig Farmer
Paddy was a keen pig farmer and he ran the farm after a day in the Sheridan Insurances office. He would finish work between 5-6pm in the sixties and seventies, go for a run, have his dinner and tend to the farm. Paddy believes in a healthy balance of work and personal life. We all need to spend time with family and friends.
Our Exercise Guru
I have worked here for almost four years and I know that Paddy leaves the office about 12.30pm to hit the gym. He enjoys meeting the guys at Ferrycarrig Hotel gym. He normally does the plank for three minutes as a rule but I know that last year his personal best was just over five minutes!
Best Advice
In the workplace, there is nothing like encouragement and support from the boss. This is a trait that Paddy has passed onto his children, Ciaran and Donagh. They all work within Sheridan Insurances and encourage us on a daily basis. Paddy sold car, van, home and business insurance for nearly 50 years and we all benefit from his knowledge and experience.
Company Car In The Late Fifties
Before Paddy established Sheridan Insurances, he worked as an inspector for Norwich Union which is now known as Aviva. He looked after people in the South East including farmers. If paddy wanted to visit any farmer he normally met them in the evening once they finished work. At the time he drove a 'Ford Anglia' something like the car in the picture below. Norwich Union provided him with a car but it had no extras. This proved quite difficult because an internal light in the car was classed as an 'extra'. How could anyone fill out paperwork at night with no light!
Imagine a light being classed as an extra! Eventually Norwich Union allowed him to install a light in his car. The rest is history….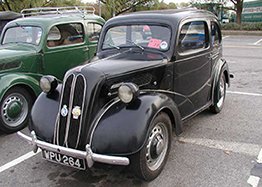 image source: en.wikipedia.org