The Big Giveaway – Win tickets to the Wexford Spiegeltent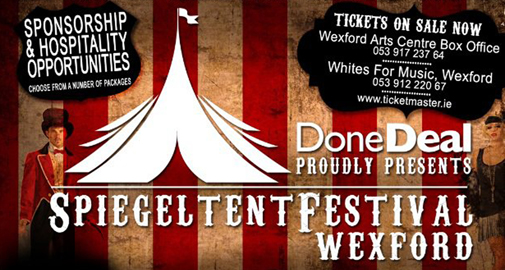 Following last year's success, the Wexford Spiegeltent Festival is set to be the biggest entertainment festivals ever in the South East! And what a pleasure it is to have it on our doorstep. You can see the spectacular Spiegeltent on Wexford Quay from the 23rd October. It takes two days to assemble but the finished venue will be absolutely stunning with chandeliers, stained glass windows and velvet ceilings. We hope to give you a few sneak peak photos before it officially opens.
Over the twelve day festival there is an amazing line up of entertainment such as Bell x1, Eddi Reader, an adult burlesque show, Jason Byrne, Jack L and much much more.
Want to win tickets?
We are very proud to support the spiegeltent festival and we want to give you a chance to experience a fantastic evening of entertainment during the Wexford festival. To be in with a chance to win tickets check out our  facebook page right now!