Ahh, My Car Will Never Break Down…Are You Sure?

Recently Aoife & I were discussing how horrible it can be to be stuck on the side of the road following a breakdown or a puncture. That got us thinking about what essentials we need to put in our cars just in case. Winter is on its way. and you need to be prepared.
Two High Visibility Vests
One for me and one for anyone that may stop to help.
Warm Jacket
Even if it is an old one, fashion won't be so important if it's a cold or wet night!
A Good Torch
It can be tough enough to change a tyre without having to do it in the dark.
Warning Triangle
Pick up a foldable warning triangle in your local Argos, Halfords or Motor Factors. They are a brilliant way of alerting people. Someone may stop to help you out and people will know to avoid your car!
Breakdown Phone Number
As well as having the number in my phone I also have it on some paper in my car in case of emergency. Just in case I forget the phone or the battery dies, if someone stops they will surely let you call the breakdown agent on their phone.
This might sound like a lot but if you wrap it up well and put it in a little bag or a box it shouldn't take up too much space. It's better to be looking at these things than looking for them if you do get stuck!
Pushing A Car Is Only Cool If You're A Kid!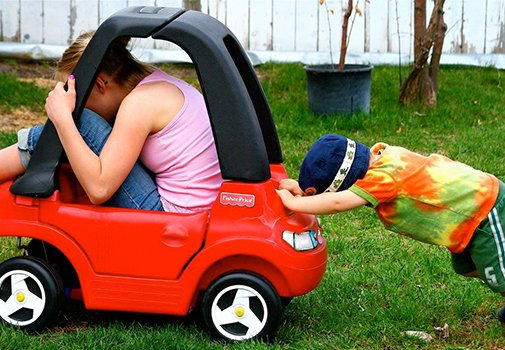 Image source: www.instructables.com