Get Those Photos Printed & Celebrate The Memories

I'm a divil for taking loads and loads of photos and never printing them. I love going through old photos at my parents home so I have decided to start planning my photo wall. I will be moving into a new house shortly so I want to pick some of my favourite photos and create a photo wall. It's a great way to make your house feel like a home.
Where To Start?
I'm going to pick 10 photos that I absolutely love and make me feel happy.
Then I'll decide if I want them in colour or black & white or a mixture.
Decide on a style – will I go for the standard IKEA frames or go for a vintage look.
See what size and orientation I want each photo to be.
Pick the layout I want and lay the frames on the floor and make sure I'm happy.
Then find a handy person to hang them for me!
I posted some inspo for you below if you're planning on creating a photo wall if your own home. I picked a few different layouts for you to choose from and the photo ledge can be purchased in IKEA if that floats your boat.  I also really like the kid's room idea; it puts some structure on their daily artwork.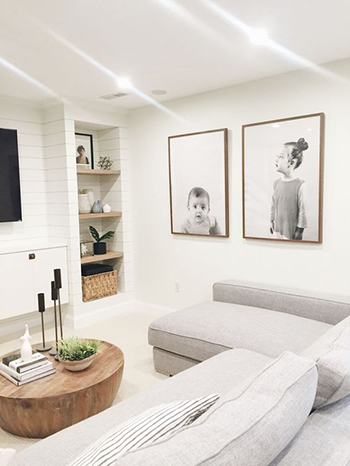 Image Source: www.pinterest.com