Winterize your car and take on the Irish weather
The cold weather has arrived and over the past few mornings there have been freezing conditions, making our cars harder to drive and our mornings more of a struggle. Here at Sheridan Insurances we have discussed our winter car mishaps so we like to share our winterizing car and driving tips with you!
Replace your Antifreeze
You can't go wrong putting a new can of anti-freeze in your car because you would never know when you will wake up to freezing weather and it will typically happen when you're in rush. With this in mind have a can of anti-freeze ready and waiting! Make sure that your radiator coolant is fresh and contains anti-freeze too so that your engine is ready to take on the winter months.
Driving distance
Winter weather conditions often create slippery and more dangerous driving conditions so always make sure that there is adequate distance between you and the car ahead. Always remember that the 2 second rule doubles when the road surface is wet or slippery in any way.
Ice
Ice can be difficult to see on roads and black ice is every drivers fear while driving in icy conditions. If you drive on an icy patch, don't panic or brake/move harshly. Easier said than done but do your best! Black ice is extremely difficult to spot and can be tricky to manoeuvre your car or van when you hit it. It forms in wet, sheltered areas and usually stretches
several metres in any one patch. We would recommend that you drive in a low gear in icy conditions as this gives you more control.
Clear windscreens
Never drive your car until all the windows are completely clear. I set my alarm 5 minutes earlier in the winter to give me that extra time to thaw my car before leaving the house. Never leave your car unattended when it is thawing, you could make use of this time by doing your lipstick or even having a little scroll on insta or facebook before heading on route!
Use your lights
During winter months you should use dipped headlights even during the day as weather conditions can often be dull, reducing your car visibility to other drivers and it can hinder your vision too.
Check your tyres
Make sure that your tyres thread length are well over the minimum 1.6mm . Although this is important all year round, it is more significant in poor weather conditions as the threads help grip your car tyres to the road. If your tyres threads are approaching the 1.6mm mark, you should try invest in new tyres for the winter.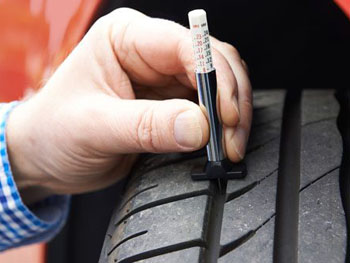 Take care on the roads this winter and be safe 🚗
If you are looking for Car Insurance – Call us Today on 0818 222 700 to get a quote
Images sourced from pinterest.ie