Lorraine Is Back With Some Delicious Valentine's Treats

Red Velvet cupcakes are absolutely delicious and they would be an
impressive treat for your loved one this Valentine's Day. Some people
are so fed up of going out on Valentine's night and paying for over
priced food. This treat would be a lovely addition to a home cooked meal.
I made a batch last week to bring to work in the Kilkenny office and
they didn't last long! The recipe is quite simply and easy to follow
so I hope it comes in handy for you this weekend.
Red Velvet Cupcakes
175g Self Raising Flour
125g Caster Sugar
150g Butter/Margarine
2 Large Eggs
2 tbsp Drinking Chocolate
4 tbsp Water
2 tsp Red Food Colouring
Topping
250g Mascarpone
1 tbsp Icing Sugar
100g Melted White Chocolate
Method
Preheat over to 180 degrees.
Line a 12 cupcake tin with bun cases or use standard bun cases to makes about 18 buns.
Beat the butter/margarine and sugar in a bowl until light in colour.
Add the flour, eggs, drinking chocolate, water & red food colouring. Beat well.
Divide the mixture between the muffin cases.
Bake for about 20 minutes.
Cool on a wire tray.
To make the topping, melt the white chocolate in a bowl over a pot
of simmering water. In a separate bowl beat the mascarpone and
icing sugar together. Add the melted chocolate & stir to combine.
Add the cream cheese to the buns and decorate with red sprinkles!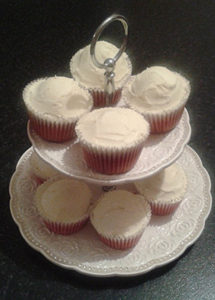 image source: www.thec10.com