A Perfect Treat For A Kids Birthday Party

Welcome to my first blog, it's completely new to me. I work in the business insurance department and specialise in farm insurance. So, the recipe I want to share with you is so simple and my children lovely making these at home. It's one of my daughter's favourites and I regularly make these little teacups and bring them into work. Needless to say, they don't last very long!
It's a great little recipe to make for a kids party. It's not very messy and the kids will be excited that they will enjoy getting involved. Have a go and let us know what you think.
Ingredients
1 packet of Marshmallows
1 bar of  white chocolate
1 bar of milk chocolate
1 packet of ring biscuits
1 packets of buttons or polo mints
Method
Line out the ring biscuits, colourful side facing up.
Melt the white chocolate.
Dip one end of the marshmallow into white chocolate and stick to into the middle of the biscuit and let them set.
Melt the milk chocolate, spoon it on to the top of the marshmallow and cover it in sprinkles.
Either, stick a chocolate button into the side of the marshmallow to make the handle or break a polo in half, dip it in white chocolate and stick it to the marshmallow.
And there you go, you have some cute little teacups that kids will love!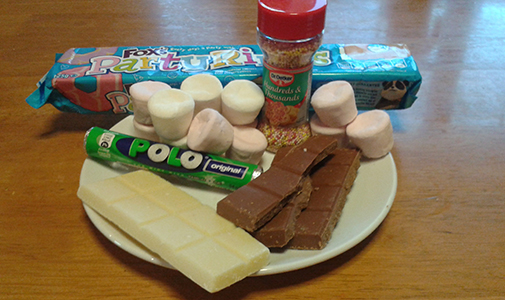 Image source facebook: https://www.pinterest.com/pin/50454458300511142/