Take the gloom out of rainy days with these activites!
Unfortunately, rain has returned and all you feel like doing is snoring but the children are shouting "im bored" from every room in the house. Well don't let rainy days dampen your good mood and family fun because we have some rainy day activities for you and your children to enjoy. Don't fret as entertaining your children is not so daunting when you have lots of inspiration, so give these ideas a go and make the most of rainy Irish days.
1 – Bake with your children
Surprisingly children love baking as it gives them a feeling of importance and it is often a special activity for children as they can't bake everyday day of week as it's quite time consuming and needs supervision. Try baking the likes of buns, biscuits and cakes that can be decorated as this will allow your children to be creative too. Baking or cooking is a great way of sharing family recipes and cooking tricks that you have learned over the years with your children and they will also love playing the role of sous chef for mammy or daddy. At the end of all the baking, decorating and cleaning there is also yummy food to enjoy (fingers crossed) and you could even throw a family tea party to make the most of all your teamwork.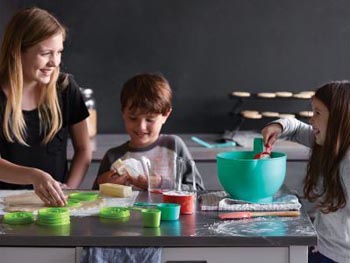 2 – Make your own homemade play dough
What child doesn't love mauling and building things with play dough? Why not try making your own play dough from scratch so that your children can actually play with what they have created and this will occupy their little minds for double the amount of time. This here is a great recipe to make play dough and then your children can add the likes of glitter and food colouring to their play dough mix too (make sure to give them a craft apron as this can be a little messy).
3 – Organise a house treasure hunt
A great way to entertain your children is to organize a treasure hunt in your home. Make up clues (maybe even little riddles depending on their age) that lead to other clues and eventually leads to the prize. This is a great way to make your children think logically to discover the hidden prize and have lots of fun too.
4 – Make a homemade cinema
If it really is a miserable day and your children are feeling a little tired, why not make a homemade cinema in your sitting room (make the most of beanbags and big cushions if you have them). Decide on a movie and make up your cinema treats together (popcorn is a must to make it like a true cinema experience). This is a great way to take time out and cuddle up on the sofa for a couple of hours but make sure to prep all your food and drinks in advance so that you don't have to make pauses mid movie.
5 – Make up a rainy day box
This a great idea to make in advance because you would never know when the sky will open up and ruin your outdoor activities planned. In your rainy day box have craft supplies, board games, dress up costumes, colouring books etc. as a backup plan!
6 – Embrace Irish weather
If you are feeling adventurous and the weather is more wet than actual rain, why not let your children embrace their inner Peppa or George pig and go jump in some muddy puddles.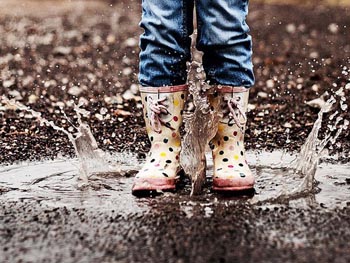 Images sourced from pinterest.ie & livesimply.me