The Midterm break is almost here and we know that parents will be looking for different ideas for a family day out. Have a read at what we feel would be fun family activities where kids of all ages can enjoy all the tricks and treats that Halloween and midterms breaks an bring.
Ballycross Apple Farm – Co. Wexford
Ballycross Apple Farm based in Bridgetown, Co. Wexford is the ultimate Halloween fun adventure for kids of all ages.
Each weekend from the 6th of October until Halloween Ballycross Apple Farm offer an unique experience where you can head off on the tractor and trailer to the Pumpkin Patch to pick your own Pumpkin to buy and take home to carve. When you are there make sure you take a trip on a traditional horse and cart around the grounds to visit the Witches Village and meet the resident witch and walk through the woodlands.
If you are feeling peckish after all of that take a break in the waffle and crêpe bar or the Farm Shop which is stocked with different varieties of apples, homemade apple and other juices, homemade chutney and honey.
Normal Admission: Adults €4, children €3, family (2 adults and 3 children) €15, OAP €3.
Admission including Pumpkin Picking Trip: Adult €5.50, Child €4.50, Family (2+2) €19, Family (2+3) €20
Open over the Halloween Midterm each day from 12 PM to 6PM.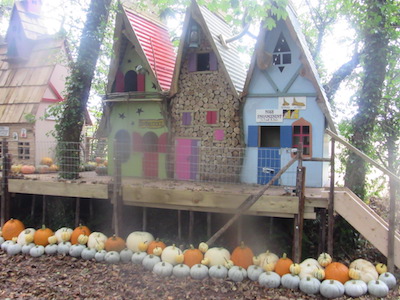 Dublin Zoo
Midterm is the perfect opportunity for a family day in Dublin Zoo. And on the 31st of October from 12pm – 4pm Dublin Zoo presents Spooktacular Boo at the Zoo. This consists of creepy arts and crafts, spine-chilling keeper talks and spooky face-painting.
Rathwood Spooktacular Pumpkin Train Adventure – Co. Carlow
This Halloween the Rathwood Express Train promises to be magical and just a little spooky, designed for younger children up to 8 years of age early in the day and after 4pm festivities get spookier for older children and adults.
If you jump aboard the Spooktacular Pumpkin Train Adventure you will have a fun and memorable Halloween experience. With a walk through an enhanced forest, a spooky train ride, pumpkin carving, you will get to see the sheep, ducks and deer and to top it off a hot chocolate.
This event runs from October 20th of October – 4th of November and tickets cost €11 per child, €7 per adult and babies go free. You can book online or call 059 9156285.
Tayto Park – Co. Meath
If you visit Tayto Park over Halloween you can experience their Halloween experience – Scary Tales which is suitable for Children over 6 years of age. Step inside a world you thought you knew and discover what happens when an ancient curse is broken. But don't expect a happily ever after, for these stories have a twist in their tale; escape the Witch, save the Prince, find the answer you seek the most. This is a place where nothing is as it seems, and everybody has a secret. This is the world of Scary Tales. Dare you enter?
This event runs Saturday 20th & Sunday 21st October and Saturday 27th October – Sunday 4th November. Time: 11-4pm daily
The cost is – 6 Tokens or Wristband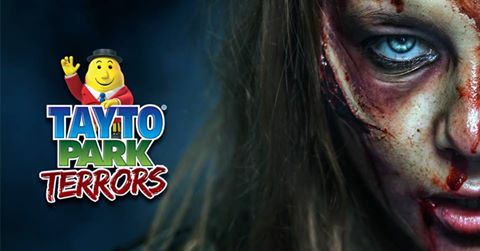 Nore Valley Park – Co. Kilkenny
Nore Valley Park in Kilkenny will also be getting in the Halloween spirit. Nore Valley Park is holding their annual torch light treasure hunt, scare maze, and bonfire on Friday 26th, Monday 29th, Tuesday 30th and Wednesday 31st of October 2018 at 7pm.
This promises to be a fun, family-oriented evening for all ages. You will have to search the farm with your torches in the dark to find the reflective markers and pick up clues, then solve the puzzle to win your prize! Afterwards enjoy toasting marshmallows on our bonfire and test your nerve in the infamous and truly terrifying scare maze. There is also a fancy dress competition on the night, so prepare your best costumes!
Westport House – Co. Mayo
Are you ready to scare yourself silly this Halloween?! Westport House will be hosting it's annual Halloween Fest from 20th and 21st October as well as the 27th to the 31st of October from 11:00am to 5:00pm. Get ready for plenty of ghoulish delights, scary stories and creepy fun that all the family will be able to enjoy! Head to the Haunted Estate House, transformed into a spooky old mansion for Halloween Fest. Gather 'round the cauldron for Scary Story Time, with wicked tales from the White Witch of Westport.
Brave souls can visit the dark dungeons, where the Pirate Queen Grace O'Malley locked up her prisoners. Carve a creepy pumpkin and decorate some ghoulish goblin cakes at the Spooky Spoons Workshop. Get your Michael Jackson zombie moves on at the Thriller Dance Class. Head over to the Pirate Adventure Park for thrilling rides on the Cannonball Run, the Pirate Queen Swing Ship and the Pirates Plunge! And lots more!! On Halloween Day, October 31st, dress to terrify at the Apocalyptic Disco and Costume Competition from 3pm to 5pm. It's going to be spooktacular fun!
Tickets for Westport House Halloween Fest are €57 for a Family Pass for 2 adults and 2 kids when you buy on their website(normal prices are €60). That includes all Halloween activities plus full use of the Pirate Adventure Park. The only additional cost will be €3 per pumpkin in the Pumpkin Carving activity or bring your own pumpkin and no fee will apply.
Image source: pexels.com