Traditional Pancakes With A Twist

Why is it that most of us only make pancakes once a year? Well not in our
house –  Pancakes are our Sunday morning treat, we're addicted! If you are
looking for a quick and easy pancake recipe that is sure to impress check
out my favourite pancake recipe below. There is even time for a test run
before the big day!
Top Tip: Make the batter the day before as it saves time in the morning.
Ingredients
125g/4oz Plain Flour
Pinch of Salt
1 Egg
300ml/ ½ pint Milk
Oil for Frying
Method

Sieve the flour & salt into a bowl.
Make a well in the centre of the flour.
Break in the egg & some of the milk.
Beat well, gradually pouring in the rest of the milk & drawing in the flour
to make a smooth batter. (Use less milk if you like thicker batter).
Pour batter into a jug and allow to stand for @ 30 minutes before
cooking the pancakes.
Top Tip: Use an oil that does not have a strong flavour or it will affect the
taste of the pancakes or substitute with unsalted butter either.
The Toppings
My favourite is Greek yogurt with a sprinkle of cinnamon accompanied
by stewed mixed fruit. For the fruit, I mix raspberries & strawberries in
a pan with some orange juice until softened. A sprinkle of icing sugar
over the pancakes to finish and there ready to serve.
Other popular toppings in our house are:
Stewed apple & cinnamon
Fresh blueberries & honey
Lemon & caster sugar, you can't beat this traditional pancake
Nutella & sliced banana
Top Tip: Anytime I have fruit going soft in the fruit bowl, I stew it and
freeze it. Then I can just put in a saucepan & heat up for the pancakes.
No waste in my house!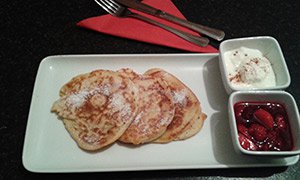 image source: www.express.co.uk