Traditional Sweet Treats For Family & Friends

Hi, my name is Lorraine & I am part of the Car, Van & Home Renewals
Team for Sheridan Insurances. I enjoy baking & cooking in my spare time.
For me, it's a relaxing thing to do and most evenings I am in the kitchen
cooking something.
Christmas is fast approaching and for me it is a very special time to spend
with family & friends. If I have visitors over the Christmas period or if I am
visiting I like to bake something. I'm traditional & like nothing more than a
cup of tea & slice of something nice.
Here are some of my super easy recipe which are particularly nice for this
time of year. Fast to whip up and who doesn't like walking into a home with
the lovely aromas of baking to meet you at the door.
Cinnamon Teacake Ingredients
60g butter, softened
10g butter, melted
1 tsp vanilla extract
1 tsp ground cinnamon
150g caster sugar
1 tbsp caster sugar
150g self raising flour
1 egg
80 ml milk
Recipe
Preheat over to 180 degrees.
Grease a deep 20cm round cake tin & line the base with parchment paper.
Beat 60g butter, vanilla extract, sugar & egg in a small bowl, with electric
mixer until light & fluffy.
Stir in sifted flour. Add the milk & combine.
Spread mixture into the tin.
Bake for about 30 minutes.
Stand cake in the tin for 5 minutes before turning, top side up into a wire rack.
Brush the top of the cake with 10g melted butter.
Combine cinnamon & caster sugar and sprinkle on top of cake.
Serve warm with cream.
This is such a simple recipe and delicious served warm. Smells like Christmas.
Easily adapted by leaving out the cinnamon and topping with jam & cream or
jam & coconut. Here is a picture of my Cinnamon Teacake below. I have lots
more recipes for you over the Christmas season so keep an eye on our page.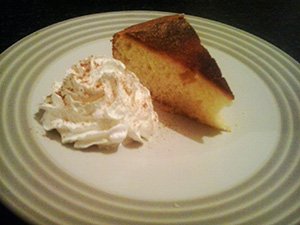 Image Source: myfavouritepastime.com