Aoife Caulfield Has Some Great Tips For Parents

Bags packed, kids are excited and you can't wait to put that out of office status on your work emails; but have you forgotten something? As a parent you need to walk onto that plane confident in the knowledge that you are fully prepared to entertain your kids for the next three hours. If you are a nervous flyer you definitely want your child to be as relaxed as possible.
I have two little girls, aged 8 and 10. I have travelled with them since they were toddlers so I think I can give you some great little tips to entertain the kids through the airport and the plane. Now that my girls are a little older it definitely is a little easier to take them on holidays.
MacDonald's
MacDonald's is a real treat for my girls because I don't really bring them there very often. So, when we get to the airport I buy them a happy meal. They also have porridge as an option on their breakfast menu. Not only are they excited to be in MacDonald's but they also have the little toy to play with on the plane.
Travelling Trunki's
Have you ever seen the kids suitcases called trunk? My girls have their own little suitcases now because they are older, but the trunk case is great for 3-6 year olds in my opinion. They love helping you pack them, they can scoot around on them in the airport. You can buy them here on littlewoods.ie.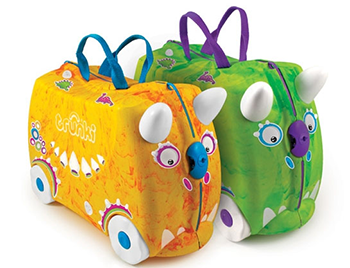 Finger Puppets
These were a great little find for my children. They absolutely loved them. It would entertain them for a while on the plane. Creating little stories puts them in great form. Definitely worth purchasing.
Storytime
There is really nothing like a story and snuggle and their favourite story and favourite blanket. Most kids associate story time with going to bed and I think this really helps settle young kids on the plane.
Tech
I use a few different things on the plane. Firstly I will have the portable DVD player, lifesaver! I also compile a playlist of their favourite songs on my iPhone and let them listen to the music. Just don't forget to switch it to airplane mode! Giving them their own set of headphones is a great idea too. I download some games onto my iPad and this is another option. They all work!
Food
No matter what bring their dummy or some sucky sweets for older children to prevent their ears popping. The pain can be awful and you really don't want upset little kids on your flight. I will also bring little packets of fruit from the airport.
I really hope this tips help. If you are heading on holidays this summer have the best time!
Image source:
www.airportsinformationblog.co.uk
trunki-shop.ru