Get creative with your pumpkin creations #childfriendly
So Halloween is creeping in for another year and of course you must go pumpkin picking with the children to ensure that they pick the perfect pumpkin to spook up the house. We all love carving our family pumpkin to get into the Halloween spirit but it can be tricky if your children are young in age because they don't understand that carving a pumpkin involves sharp tools, only for adult use. With this in mind, why not try spooking up your pumpkin with minimal carving so that your children can be more involved in all the crafty festive fun. Here are cool ways that are far from tricky to give your pumpkin an eerie side.
#1 Make your pumpkin glow from the outside
Jack-o-lanterns are most commonly known to glow from the inside out but why not try switching it up this year and make yours glow from the outside only using glow in the dark paint. This is a fantastic way to dress up your house with pumpkins and your children can take full control in designing and creating their pumpkin face. All you need is your pumpkin and 3D fashion paint (neon & glow) and your children are all sey to get creative!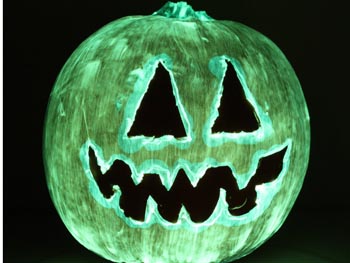 #2 Make spider pumpkins
Make your pumpkins into creepy crawlies with your little monsters at home. Making spider pumpkins couldn't be easier as all you need is miniature pumpkins, long black pipe cleaners for the hairy spidery legs and plastic eyes to create the scariest pumpkin spiders for Halloween. Easy peasy 🙂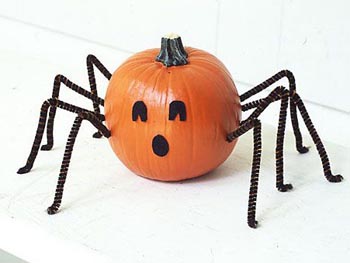 #3 Make your pumpkin say peek-a-boooooooo
This involves a little bit of carving but when you are carving out the top lid and scooping out the pumpkins insides, you can keep your children occupied as they can start drawing and cutting out their out little pumpkin monster hands on black felt (i.e you get the messy job). Then all you have to do is use craft glue to stick on the felt hands and then the googly eyes between the space where you place the lid (see image below).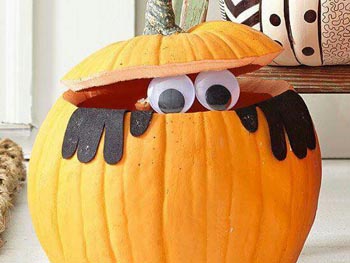 #4 lollipop haired pumpkin
This is a funky way to spook up your pumpkin and it's also a great way to give out treats to all your trick-or-treaters. This one also involves a little bit of carving for your pumpkin face but you could get your children to draw on a scary pumpkin face either or paint on a glow in the dark face as in #1. When your pumpkin is all spooked up, you push lollipops into its head to give it spiky edible hair! Tip – if your lollipop sticks are not strong enough to make holes in your pumpkin head, make the holes for your children using an awl and then they can pop the lollipops into the holes.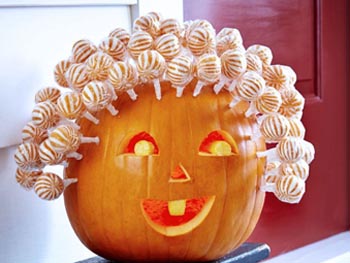 Images sourced from pinterest.com and pinterest.co.uk