Wexford vs Limerick, We're On The Road Again!

A trip to Tipp this weekend for the yellow bellies as we are in the All-Ireland
Senior Hurling Championship quarter-finals! They have a tough game against
Limerick but with Liam Óg and Conor Mac up front, we're sure the boys will
keep the dream alive for Wexford. We are supporting the boys all the way, so
we have some fun and some helpful ideas to get your car ready for the trip to Tipp!
Turn up the choon 'Dancing at the Crossroads' 
The car journey wouldn't be complete without singing along to 'Dancing at the
Crossroads'! Bring back the memories of 1996 and sing your little heart out.
I went to the trouble of finding a youtube clip just in case you only had the tape!
Check the oil level in your car
Have you checked the oil in your car lately? The last thing you need is a
breakdown on the way to Thurles! It only takes few minutes, if your not
confident about checking the oil level in your car, ask a mechanic to take a look.
Check Your Car Tyre Threads
Don't forget the minimum legal tyre thread limit is 1.6mm, we recommend getting
your tyres replaced long before they reach this point – take a look at the condition
of your tyres, if in doubt ask your garage or tyre providers.
GAA Car Selfie
We took our own car selfie for the Journey to Thurles. Why not take your own
with your family and friends before you set off on your journey to Tipp. A great
way to remember the day and it's a bit of craic for the day that's in it.
Tag us in some of your photos. #sheridanselfie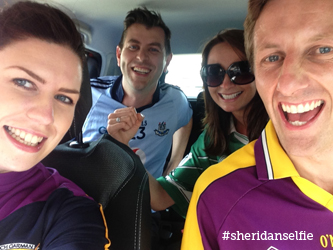 Best of Luck to our boys this weekend! Enjoy yourselves at the
match and drive safely.