Everything You Need To Know About This Weekend

The excitement is building in the office because the Ed Sheeran concert weekend is almost here! Rebecca and Noeleen in our Wexford office got tickets so we got together to give you as much information as possible. It's going to be a busy weekend in Dublin so we thought this blog could be a handy source of info. Also, the winner of our Facebook Ed Sheeran competition will be announced just after 3pm today so best of luck!
Transport
A shout out to the people that got a hotel for the night…we are jealous! Anyway, the traffic is going to be crazy. The concert organiser recommend that you use public transport if possible. If you need to take your car they recommend to park in the city centre car parks. Croke park is well supported by public transport. The Gardai put together a traffic management plan and you can get all the details here. All public transport details will be found on their website.
Tickets
First of all… don't forget them. Secondly, make sure you have the correct date. Check them now just in case.
Concert Times
Friday 24th July 2015 Event Details
Opening:  17.00hrs
Gavin James – 18.00hrs
Bell X 1 – 19.00hrs
Saturday 25h July 2015 Event Details
Opening:  17.00hrs
Jamie Lawson – 18.00hrs
Bell X 1 – 19.00hrs
Entering the concert
Make sure you enter the concert at the entrance stated on your ticket.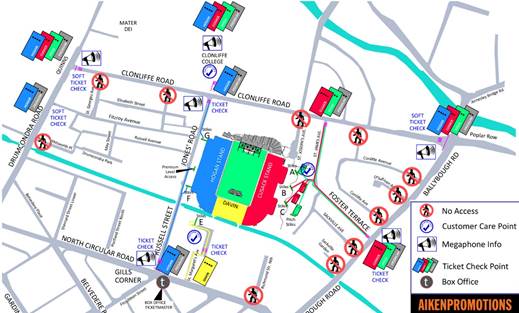 Weather
We're no Ger Fleming but the weather forecast doesn't look too bad! More likely to have a few showers on Friday so make sure you get your hands on a poncho. A quick tip – put the plastic rain poncho on under your rain jacket. If it does rain, it actually works!
The Selfie Stick
Unfortunately the concert organisers has stated that selfie sticks are not permitted. Snapchat will have to do! Here is the list of other non permitted items:
Alcohol, banners or flags larger than A4, cameras with more than one lens, fireworks, flashlights, food, garden furniture/seats, glass or cans, glowsticks, inflatable balls or balloons, laser pointers, selfie sticks,shooting sticks, studs or spikes, umbrellas, video camera and audio recording devices an weapons.
When Ed says 'Sing', SING!