Check out our porridge pimping ideas!
Unfortunately cold and miserable mornings are coming back with a bang with the majority of us wishing that we could stay snuggled up in bed all cosy and warm at home. Sadly we can't do this because bills have to be paid but if it has to done, who doesn't love a lovely warm breakfast to give their bellies a little morning hug and set them up for the day. Porridge is definitively a breakfast option that ticks this box as it nutritionally sound and will keep your belly feeling full until lunch so that your colleagues don't have to listen to your stomach grumbles. However porridge can be a little boring and snoozy so why not spruce up your porridge toppings with these ideas and give your taste buds a little morning treat.
#1 Attention all peanut butter lovers…..
Melt half a dollop of peanut butter in the microwave. Get another half dollop of peanut butter and place it in the centre of your porridge for an oozy centre. Slice banana on top of your porridge and then smoother with the melted peanut butter!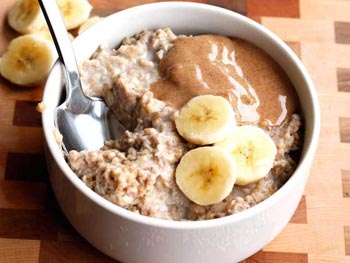 #2 Greek yoghurt and chia seeds
Greek yoghurt is my fave porridge topping although some people think it's a little weird. I make my porridge on water so greek yoghurt gives my porridge that creamy taste that you crave when it starts to melt on top. I sprinkle chia seeds on top as they are an excellent source of protein! You could add something sweet here too like dark chocolate chips, passion fruit or pomegranate etc.
#3 Nutella (naughty option) or Meridians chocolate nut butter (not so naughty)
If you are a chocoholic and you have a sweet tooth no matter what time of the day it is, this porridge topping is for you. Spoon a dollop of Nutella or Meridians choc spread in the centre to get a chocolately core and of course drizzle some on top too. Top it all off with fresh berries such as strawberries and raspberries and tada your sweet tooth is happy!
#4 Jump on the proats bandwagon
Like all the fitfam, why not add some protein powder to your porridge. My favourite is My Protein's chocolate brownie whey and I mix ¾ of a scoop into my porridge when I have I have achieved a soft consistency. Because I am a guilty chocoholic, I also put a square of Lindt's 85% dark choc in the centre to ooze through my porridge.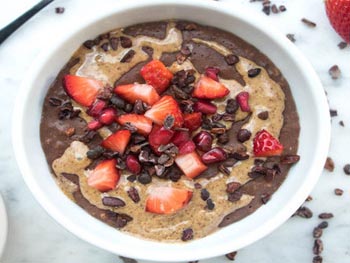 #5 Smashed banana and cinnamon or smashed banana with coconut and nutmeg
Cook your porridge in a saucepan. Smash up a banana and stir through your porridge when it reaches your preferred consistency over the heat. Remove from the heat and sprinkle with fresh strawberries and ½ teaspoon of a cinnamon. You can also switch this up and stir in desiccated coconut and nutmeg with the smashed banana!
#6 Stewed apple for that extra warm and cozy feeling
If you have a few extra minutes, stew up some apple and top it off with some vanilla yoghurt and honey! This will give your belly the biggest hug and put it in a good mood for the day.
Images sourced from pinterest.ie and myprotein.com