A Very Special Restaurant In The Heart Of The Community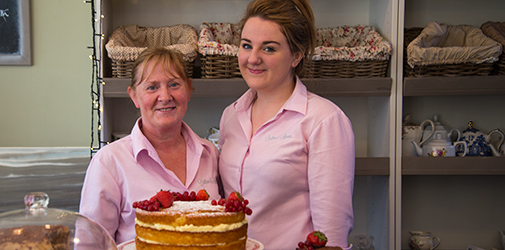 Local business is very important to us at Sheridan Insurances. We will be dedicating some time each month to local businesses and supporting our customers. This week I met with Nigel and Nuala, the owners of Button & Spoon Tearoom, Restaurant and Foodstore in Bridgetown, Co.Wexford. As soon as I walked in the door I was met with a smile and an offer of a cup of tea. You couldn't refuse that on a Wednesday morning.
I can see why Button & Spoon has become such an important place in the Bridgetown community. Most of the food is made from scratch, but it's not only the food, it's the people. If you look at the photo above you will see Ronnie and Louisa. They treat you so well and to me, that's really important because this tearoom feels very relaxing from the moment you walk through the door. The food tastes beautiful, one of my favourites is the Sloppy Joe. Check out some of the photos below, the cakes look so delicious and fresh.
Button & Spoon has been a labour of love for the owners Nigel and Nuala. They wanted to create a place that they would want to visit and a place where kids felt as important as their parents. Everything on the menu can be adapted to suit children and portions. Nuala believes that children love making their own choices and reading their own menus. Kids love going to 'Spoons' for pancakes! They also spoke about the support the local community gives them. It's incredible, the tearoom was bustling and they introduced me to the local farmer from where they buy the potatoes for the restaurant.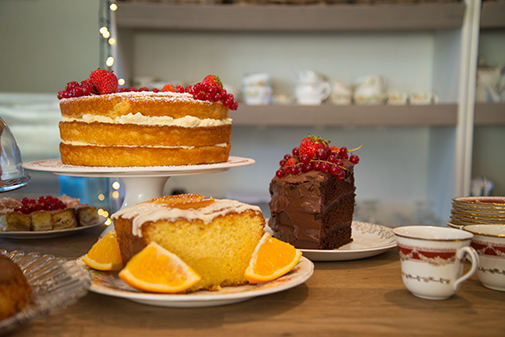 From the antique china to the decor, Button & Spoon makes you feel at home. It's very obvious that the guys are very passionate about their neighbours, staff and community. They seem to know everyone that calls in by their first name.
It's a magical little spot in Bridgetown. They offer a ladies night on the first Thursday of every month and they will also host private parties with a minimum of 20 guests on any night. If that doesn't suit, call down for a cup of tea and some of that cake!
Here is their takeaway menu. and check our their Facebook page here. There are some exciting upcoming events before Christmas so we will keep you posted!