Check out these chocolate Eggstravanza near you
School holidays are here and we are thinking of ways to spend some time with our kids. An Easter Egg could be excellent entertainment for your family and some fresh air is definitely needed after a busy few months in school and work. Don't you agree? Check out the list below, we have picked some Easter Egg trails in Leinster.
Discover Park, Castlecomer
An Easter adventure awaits in Castlecomer Discovery park. The fact that they called it 'magical' stopped me in my tracks, because it I think the kids will love it. The Easter trail takes place in the woodlands with clues and treats. It sounds amazing! Get more info: http://www.discoverypark.ie/easter-2019/
Johnstown Castle
This is an oldie but a goodie! Johnstown Castle has quite the reputation for an excellent Easter Egg Trail. It's fun for all the family and I personally love getting a takeaway coffee and having a leisurely stroll while the kids keep us entertained as they search for clues. Get more info: http://johnstowncastle.ie/easter-egg-hunt-at-johnstown/
Tayto Park
Tayto park have the Code Breaking Challenge on Easter Sunday with plenty of excitement and chocolate goodies. The kids need to crack Mr.Tayto's secret code to find his chocolate stash in Mr.Tayto's secret location. Get more info: http://www.taytopark.ie/events/easter-2019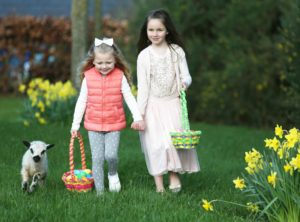 Wells House
The Easter bunnies will be hiding Easter Treats in Wells House on Easter Sunday. This is such a beautiful place in north Wexford. There will also be live music and a BBQ. That's my kind Easter Egg hunt 🙂 Get more info: https://wellshouse.ie/event/the-easter-sunday-easter-egg-hunt/
If you're driving your car over the Easter Holidays, please take extra care on the roads. Don't let the kids distract you while driving and arrive safely at your destination.