Make A Chocolate Biscuit Cake This Mother's Day

Here's a really easy, fast but super chocolately cake to make for your Mam for Mother's Day. I made it in a heart shape tin for the day that's in it. It's a great recipe that children will love helping out. This particular recipe is from the chef Kevin Dundon but I suggest a few alternative ingredients below. Everyone loves this in my house so I will be making it, have a great Mother's Day weekend!
Ingredients
225g Dark Chocolate
110g Milk Chocolate
110g Glace Cherries (optional)
3tbsp Golden Syrup
75g Malteasers
110g Mini Marshmallows
110g Butter
225g Digestive Biscuits
Method
Line an eight inch/23cm square cake tin with a double layer of cling film or parchment paper.
Place the butter, chocolate & golden syrup into a large bowl and place over a saucepan of simmering water.
When the chocolate mixture has thoroughly melted, add in the biscuits, malteasers, cherries and mix well.
Pour the chocolate and biscuit mixture into the lined cake tin and stick the mini marshmallows into the top in a haphazard fashion.
Transfer to the fridge and allow to set.
Cut into squares and drizzle with some melted white chocolate if desired.
My Tips
I use whatever biscuits I have in the press, so ginger nuts, rich tea, digestives etc.  I don't normally add the glace cherries myself.  Or I substitute the marshmallows for chopped nuts. If you like it a bit lighter, swap the chocolate measures around so 225g milk chocolate and 110g Dark Chocolate.
I hope this gives you a chacne to spend some quality time with your family this weekend, call them over for a cup of tea and a chat! #LookingOutForYouAlways
Here Is A Snap Of My Chocolate Biscuit Cake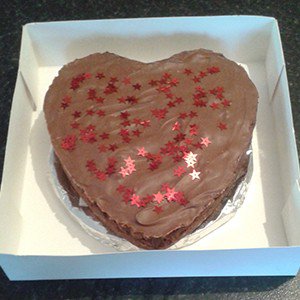 Credit: Kevin Dundon www.supervalu.ie